tous les sens signature
Simple tutorial on how to make this signature. This tutorial focuses on simple composition, stock blending and text effects
Level:  Beginner ~ Intermediate
Requires selective colouring.
Today, we're going to make this:
For this signature, I have used the followings images:
I am ridiculously sorry that I can not provide further details on the sources/origin of those textures and illustrations because I just don't know…
For the stocks, you can download my collected stock packs at either Studio Circus or Shadowplay
MAKING THE BASE
STEP ONE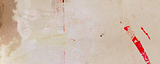 Open up a 500x200px canvas with a white background. Place Texture mid-center-ish.
STEP TWO
Place Texture again, set mode to "multiply"
STEP THREE
Take Stock 1, place two copies. Erase the top parts with a marquee tool with a large feather.
STEP FOUR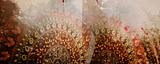 Take Stock 2, place mid-center. Set mode to "soft light". Take Stock 2 AGAIN, place it so that the left edge of the stock picture is midway across canvas (the stock covers the right half of the canvas). Set the mode of this to "soft light".
STEP FIVE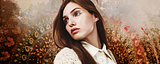 Take Model, re-size it (smaller). Take lasso-tool with 0px feather, with a low tolerance (7~20), erase away ALL background. Take the lasso tool again with 1px feather, select background and erase/delete 1~3 times. This will make the edges of the image softer (less anti-aliased) but not too soft that it makes the model seem like the edges of her face is disappearing.
STEP SIX
Take Stock 3, place on canvas, use marquee tool with large feather to erase away top part. It will look like this. Then set this layer mode to "soft light"
STEP SEVEN
Place two of Stock 4 on canvas, use marquee tool with medium feather to erase aways parts covering the model's face and body.
COLOURING
Duplicate ALL layers and merge the duplicated layers. Call this layer "base layer". Duplicate base layer again (this will be called "base layer copy"). Set the "base layer copy" to mode, "soft light". Add gaussian blur filter with a radius of 2.4 pixels.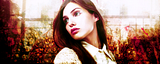 Drag and drop "Colouring" layers THIS psd from Ettudis.
Duplicate "base layer", and set mode to "soft light" with an opacity of "51%"
ADD TEXT AND YOU'RE DONE!
The large text font is shit happens and it was at a 150pt size, -50 letter spacing in white. How I did the text was that I rasterized the text layers then warped it (go to edit –> transform –> warp). Then I took the eraser tool with 100% feather at around 100~200px size and erased the edges of the text (especially around the model's hair).
I would recommend that you duplicate the text layers and rasterize (right-click layer –> "rasterize type") the copies only ("hide" the original text layers). That way, if you screw up on the rasterized copies, you will have back-ups instead of having to undo things (which I find really annoying).
Same thing for the smaller font (which is 6pt size, time new roman). I also rasterized it and erased it so it had a fading effect.
3 Comments »
Comment by Keiny — September 3, 2012 @ 3:35 am

Hi there, can I translate your graphics tutorials into another language? Of course, I will keep the credit to you, link to your page and keep all of your notes without any edit! Thanks, and have a good day 🙂

Comment by Anne-Sophie — March 23, 2013 @ 12:17 pm

This was super-helpful u w u
RSS feed for comments on this post. TrackBack URL
Leave a comment
3 Comments